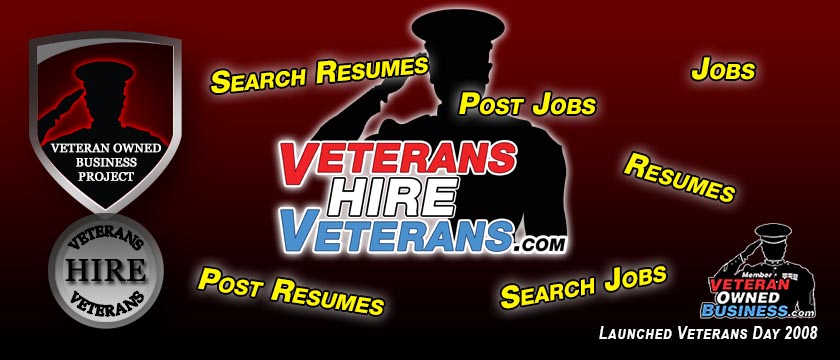 Veterans Hire Veterans Employment Network: What do you do when you have 37,000+ members, many whose businesses/organizations are growing and prefer to hire fellow veterans and others from the military community?  And you have 10s of 1,000s of fellow military brothers and sisters who served or are transitioning out of the military and are looking for employment?  You create an easy way for these employers and these job seekers to reach each other!
Post Jobs/Search Resumes:
Veteran Owned Business members, nonprofit organizations, corporation and government agencies have an easy way to work toward hiring qualified candidates who proudly served (or transitioning from active duty).
Post Resumes/Search Jobs:
Veterans, active duty members, reservists and those from military families make great workers. Now there's an easy way to search jobs as well as get your resume out in front of businesses owned by veterans as well as organizations, government agencies and corporations who want to add you to their workforce!

Veteran Owned Business Project
Nov, 09
Veteran Owned Business Project
Nov, 09
Veteran Owned Business Project
Sep, 19